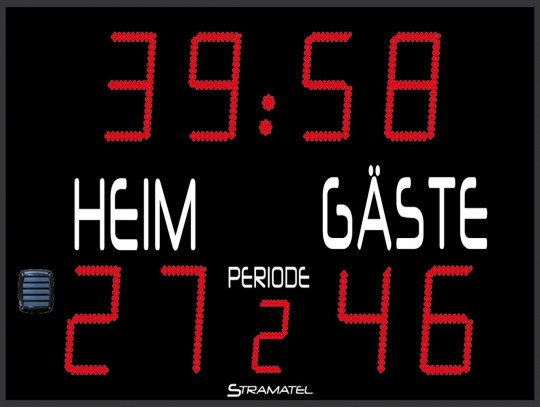 Stramatel® Scoreboard FRA Period
The scoreboard is perfectly suitable for soccer, rugby or field field hockey.
There is a possibility, in addition to the control panel, to control the functions of the scoreboard via smartphone.
Features
Technical description:
- Field of application: outdoor
- Control: radio (863-870 MHz)
- Reading distance: 160m, viewing angle >160°.
- dimensions: 1900 x 1150 x 90 mm
- Weight: 40 kg
- Power supply: 100-240V / 50-60Hz
- Front: made of polycarbonate, matt black, anti-reflective, ball-proof
(DIN 18032-3)
- power cable (supplied): 5m (without plug) - type: 230V, 3G, 0.75 mm²
- Mounting: on I-beam (adjustable mounting) or on wall
(with mounting brackets)
- Brightness control: adjustable on the control panel

Display function:
- score: 2 x 2-digit, red (digit height 30 cm)
- Game time/pause time: 4-digit, red (digit height 30 cm) + 2 flashing light dots
- Game period: 1-digit, red (digit height 20cm)
- Time out of play

Control panel:
- 1 control panel: (340 x 175 x 60 mm) with LCD display 2 lines, 20 characters of 9mm
- 1 charger: radio-controlled consoles must be constantly charged after use
(running time max. 16 hours)
- USB port: for program conversion and connection for PC keyboard
- Program: 3 sports
Product information
Properties & Features
Power supply
grid operation
Division / Performance level
all_divisions
Sports
hockey, rugby, soccer
Model
ball throw protection
Er zijn geen vragen gesteld voor dit product.