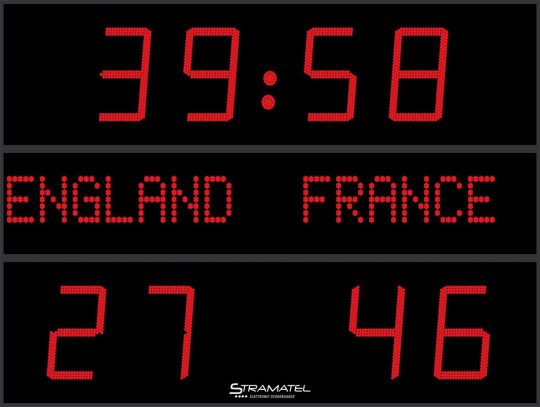 The scoreboard FRC AD is an outdoor score panel with 3 modules and a size of300 x 205 cm. Readability up to approx. 200 m and 160° viewing angle. Display options are score, game time / break score, team names, running ticker and time. This scoreboard can be controlled via radio or cable, as desired. Front side made of polycarbonate, matt black, anti-reflective, ball-proof (DIN 18032-3).
Features
Technical description
- Area of application: Exterior
- Control: radio (868 MHz) or cable
- Readability: 200m, viewing angle >160°
- Dimensions: 3000 x 2050 x 90 mm
- Weight: 115 kg
- Power supply: 230V / 50-60Hz Power consumption: 445 VA
- Front: made of polycarbonate, matt black, anti-reflective, ball-proof (DIN 18032-3)
- Power cable (supplied): 5m (without plug) - Type: 230V, 3G, 0.75mm²
transmission cable: for cable-controlled models or radio-controlled models with cable set connection box + transmission cable 50 m rigid (displayboard/connection box) - type: 4-core telephone cable 6/10 + transmission cable 10 m flexible DIN/DIN (connection box/control panel)
- Mounting on I-beam (adjustable mounting) or on the wall (with
mounting brackets)
- brightness control: adjustable on the control panel

Control panels
- 1 control panel: (340 x 175 x 60 mm) with LCD display 2 lines, 20 characters of 9mm
- 1 PC keyboard: input of team names and ticker
- 1 charger: recharge radio-controlled consoles continuously after use (running time max. 16
hours)
- USB connection: for program conversion and connection for a PC keyboard
- Program: 3 sports
- Multilingual program

Stramatel Outsport APP: Possibility to use the scoreboard functions on a smartphone or tablet and share sports results. On the APP there are additional functions: yellow/red cards, possibility of illustration with club logo.
Scope of Supply
- 1 scoreboard of 3 modules
- 1 control panel (Android compatible)
- 1 PC keyboard
- 1 transport case for storage of the desk
- 1 power cord
- Assembly and operating instructions
Er zijn geen vragen gesteld voor dit product.